Need plumbing services Memphis?
Since 1958, we have been the best Plumbing company in the Memphis area.
5 Signs It's Time to Call a Professional Plumber
Don't be fooled by DIY gurus on YouTube and Pinterest. Plumbing projects -- especially electrical ones -- aren't particularly well-suited for the average homeowner. Depending on your skills, determination and supplies, you may be able to resolve minor problems or patch an issue temporarily until an expert arrives. But waiting too long could turn a small leak into a major flood – and that can lead to thousands of dollars of damage.
Deciding if and when to call a pro can be a tough decision. If you're handy, up for a challenge or on a budget, it may be tempting to take on a plumbing problem most would shy away from. Take it from the pros, though – there are a few situations that definitely warrant immediate attention. Use this guide to find out if your plumbing problem is DIY-doable or not.
Many HVAC systems deliver less than 60% of their potential capacity because of inaccurate static pressure. Think about losing 40% of your heating and cooling ability -- and think about the tremendous impact on your comfort and your utilities bill.
The good news?  This issue is easily remedied by measuring static pressure. With pressure readings in hand, it is then possible to target inefficiencies. The first step, however, is understanding what static pressure is, what to measure, and how to best apply the results.
Persistent sink or shower leaks
This is, hands down, one of the most common plumbing problems most homeowners face. Everyone has a leaky faucet once or awhile, right? If you're hearing or seeing the drip, drip, DRIP, know this: just one drip per second can waste more than 3,000 gallons of water per year, according to the Environmental Protection Agency (EPA). That means higher utilities for you, plus potential damage to drywall, flooring, fixtures. And don't forget the mold — gross and costly. Unfortunately, ongoing leaks could be a sign of too much pressure or another major problem waiting to happen. This one is one for the pros.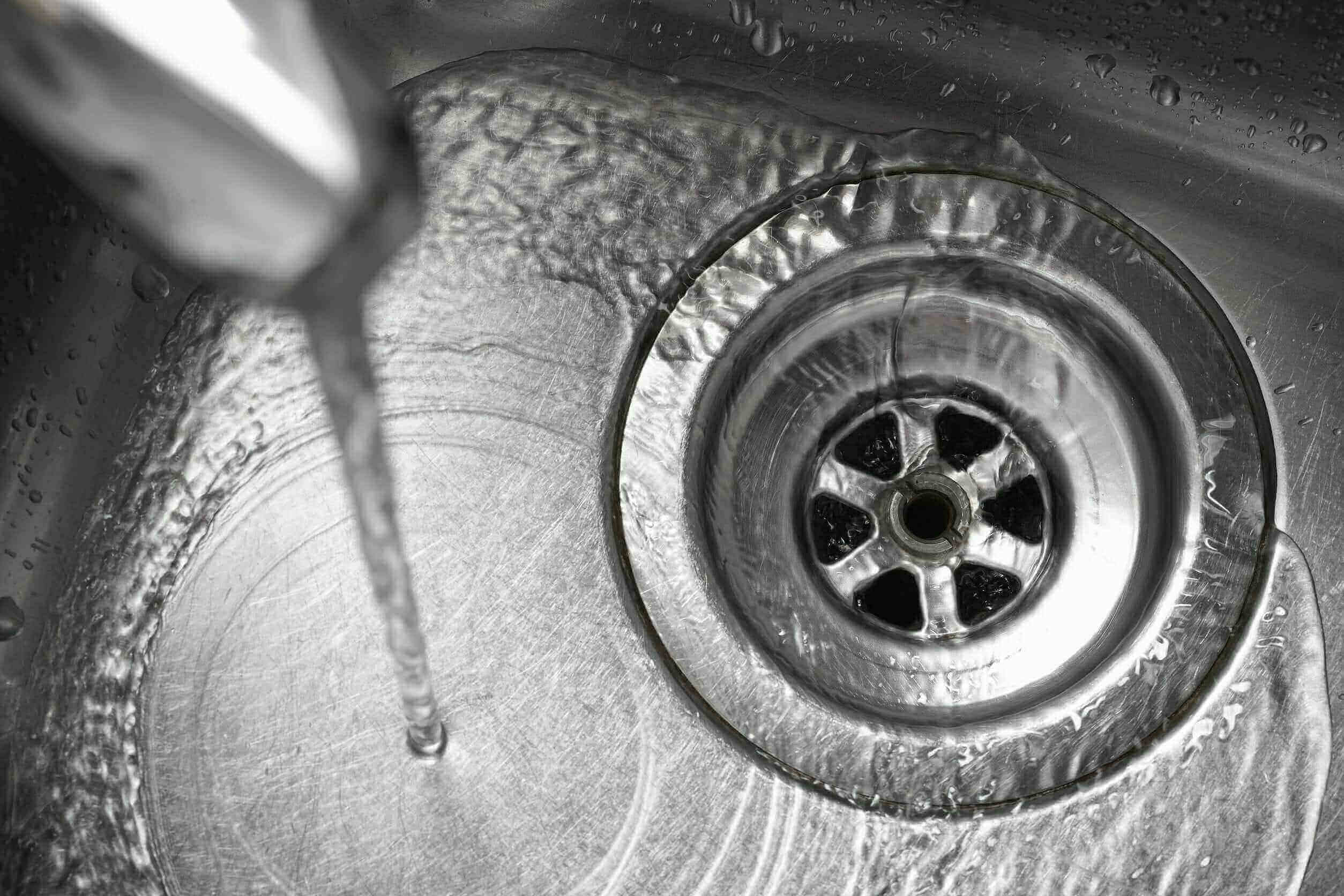 Why Choose Choate's Plumbing
When you call a plumber for any reason, you want to know that you are letting a skilled and trustworthy technician into your home. With Choate's Plumbing, you can rest assured that you will have a licensed plumber completing work with competitive pricing and a comprehensive warranty. Additionally, we have more than 30 years of experience serving the Memphis area, and we maintain an A+ Rating with the Better Business Bureau.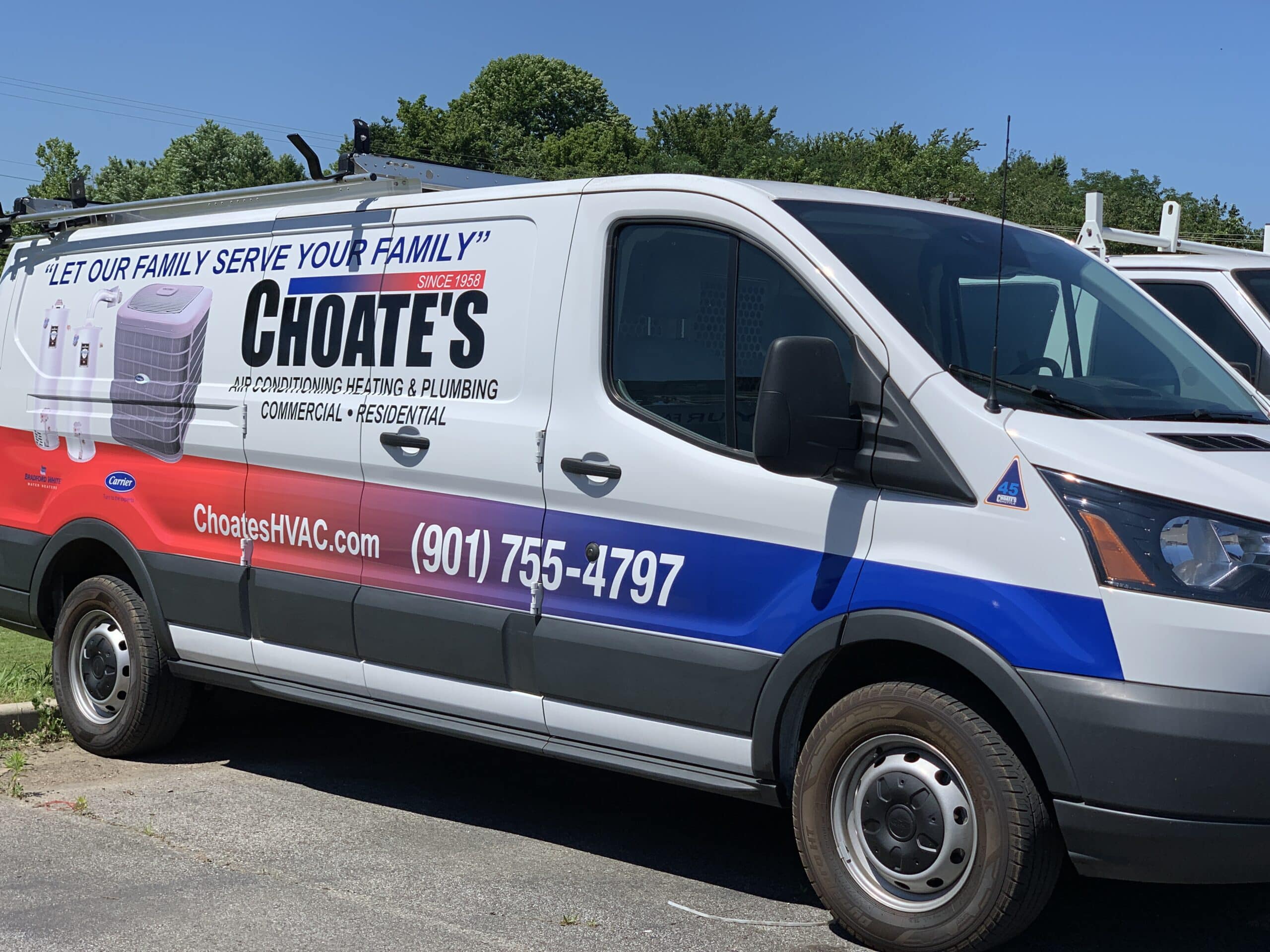 Customer Reviews
What Our Customers Say
They give you an accurate estimate of the cost before they start the work so you know exactly what you are dealing with. They are a first-class company!

Karin M.

Choate's is one of the best HVAC companies I've had the pleasure of dealing with in Midtown. They're honest, affordable and very responsive.

Anna Brown

The technician and the answering service both were very professional and there was no pushy pitch! I would recommend Tony, class act and person.

Daimon Russell

Our Residential Plumbing Services
95-Point Plumbing Inspection
Faucet Repair / Install – All Brands
Sewer Cleaning / Replacement
Clear Stoppages in Sewers
Water Services – Replace / Repair
Tankless Water Heater Installation
Fixture Upgrades – All Brands
Water Services – Replace / Repair
Camera Sewers with State of the Art Technology
What Your Plumber Can Do for Your Home
There are many reasons you might call a plumber for in-home service. Most frequently, homeowners will rely on us for repairs when a drain or fixture is not working properly. When these issues arise, you should not hesitate to call us right away, because plumbing problems can get worse over time and waste a significant amount of water in the process. Below you can take a look at some of the specific issues where our expert plumbers may help.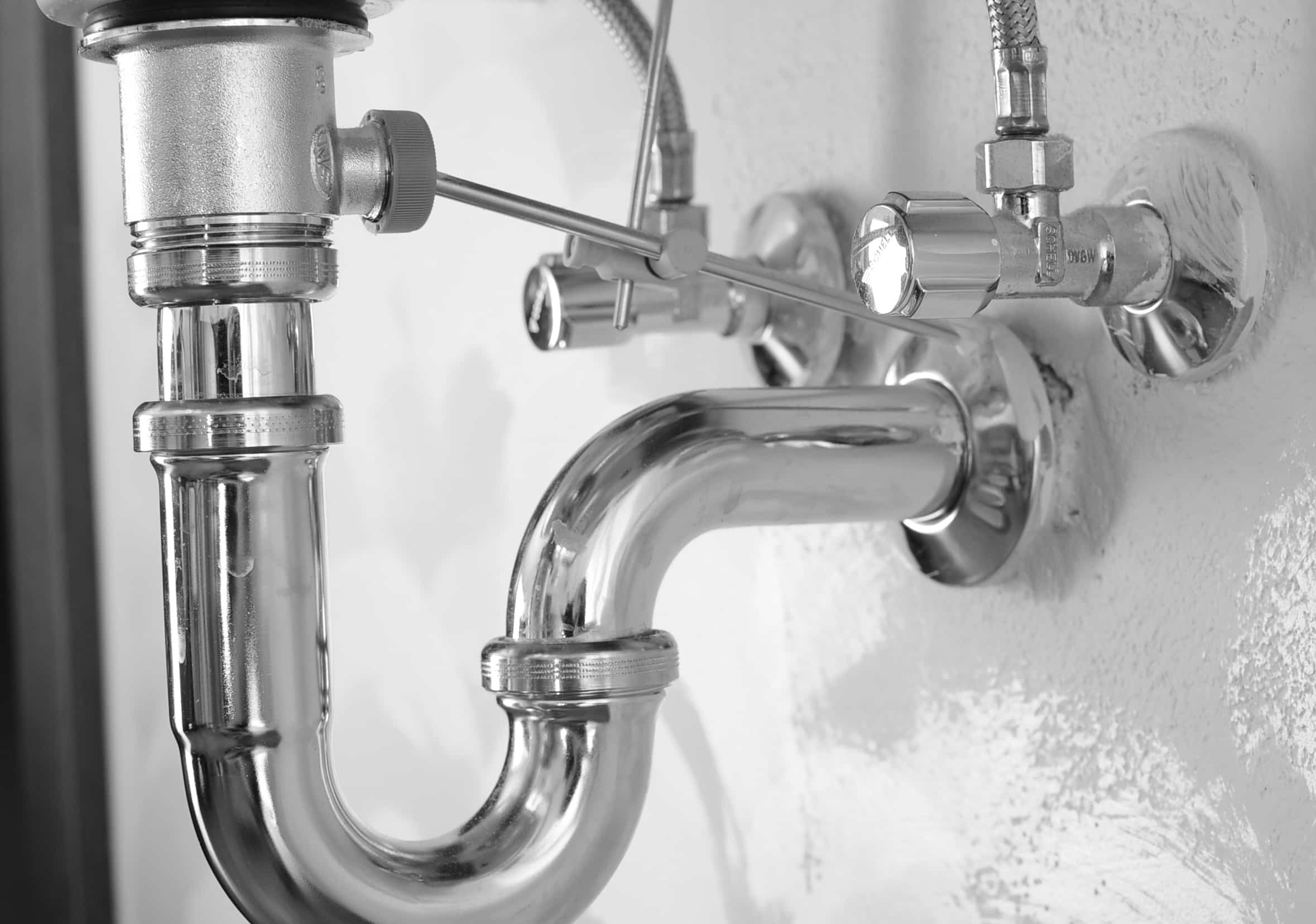 Sink and Faucet Installation
A new sink can update any kitchen or bathroom. Paired with a new faucet, you can optimize water use at the sink and enjoy the modern style of your new fixtures. With professional installation, you will not have to worry about future leaks or undue wear and tear that can come with DIY installation.
Leak repairs
Even the smallest leak can waste gallons of water, so you will not want to let a leaky faucet go untreated. Leaks may originate in the pipes or in the fixture itself, so it is always a good idea to have a professional diagnose the problem to ensure that the right repairs take place.
Toilet repairs
If your toilet is frequently clogged or fails to flush properly, there may be worn out parts that need replacement or a pipe clog that needs to be cleared. If your home has older toilets, you might consider upgrading to a modern low-flow option to reduce your water usage.
Clog removal
Most drains will accumulate buildup from food residue, soap, shampoo, and mildew, which can cause the drain to run slowly and eventually stop draining altogether. Instead of using corrosive drain cleaning products, you should call on us to snake the drain and clear the clog without any harm to your pipes.
Garbage Disposal Repairs
Garbage disposals are among the most frequently misused appliances, so they often wear out or break down. With our services, you can get your garbage disposal working again and learn the best strategies for avoiding future issues.
Whether you are looking to install new fixtures, fix a leaky faucet, or get your garbage disposal in working order, calling a plumber is the best way to ensure that the job is done right the first time around. Many homeowners are tempted to take the DIY approach to plumbing repairs, but this could end up costing more and leading to mistakes that cause more damage later on. With a trusted licensed, local plumber from Choate's Plumbing, you can rest assured that your pipes, faucets, and fixtures will be in their best working order for reliable efficiency day in and day out.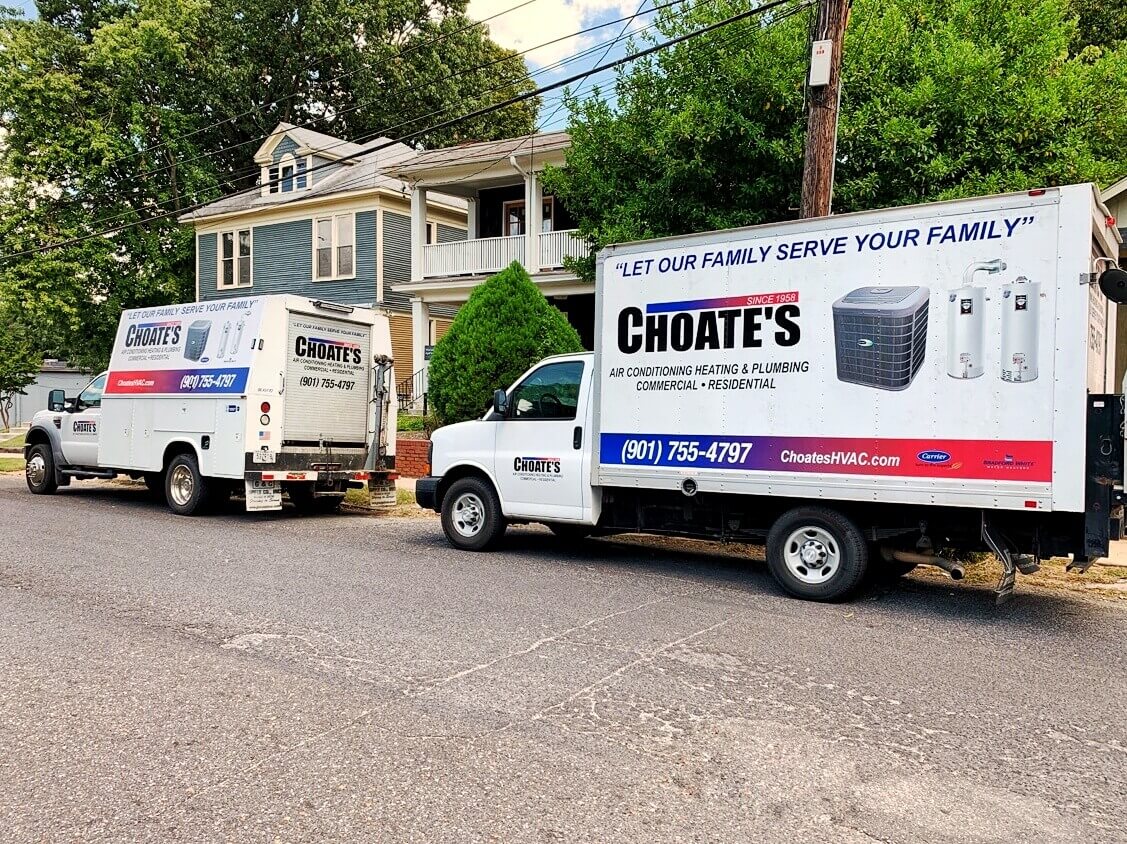 Plumbing Repair
Choates HVAC
offers a wide range of commercial and residential plumbing services to all customers in the Memphis area. If you're searching the internet for "a plumber near me", we can help with any plumbing repair, inspection or installation.
What Types of Plumbing Services Do We Offer?
Whether you're a homeowner looking to install a new water heater or a business owner trying to fix a drain clog, our plumbing team can help. We provide essential plumbing services, including drain cleaning, professional leak detection, new construction or renovation, plumbing installation, inspections and re-piping.
Food waste, hair, toilet paper and small objects can cause a clog. Some homeowners may resort to using chemical-based drain cleaners to get rid of persistent clogs. We don't recommend this since it may damage your plumbing.
Call us for professional drain cleaning instead. Our plumbers have drain cameras to assess the issue and recommend the best solutions. To prevent future clogs, install screens in your drains and develop good habits in the kitchen and bathroom. You might want to also install a garbage disposal to help you effectively manage your food waste.
Get a water heater inspection if you keep running out of hot water or the water temperature fluctuates. Hearing noises or seeing rust-colored water are also signs your water heater could be failing. Our plumbers thoroughly check your unit and provide advice regarding a repair or replacement. We might recommend a replacement if your water heater is inefficient.
Kitchen and Bathroom Remodeling
We can help with garbage disposal or sink installation. Our team can also help you make informed decisions regarding which plumbing fixtures or appliances to get for your kitchen or bathroom remodeling project. To save money on utility bills, consider investing in low-flow fixtures or energy-efficient appliances. Once you choose your new items, we can help install them.
New Construction
We can help if you need professionals to design or set up your plumbing systems. We service residents and business owners in the area. Our team offers new construction plumbing for apartments, homes, office buildings, warehouses and other commercial spaces.
If you have a tank-type water heater that's more than 7 years old or is no longer efficient, it may be time for you to get a new water heater for your home. Tankless waters are a good option for homeowners who want to save money. There's no standby heat loss with the tankless unit because you're not constantly heating your water, making it one of the most energy-efficient options.
Compared to the standard water heater, tankless water heaters also last longer and require less maintenance. Our plumbers can help with water heater installation. We'll carefully remove your old water heater and install the new one.
Re-Piping
If you live in an old home or you keep having problems with your pipes, re-piping may be the solution. Water damage may result in costly repairs and replacements. It's more cost-effective (and safer) to get new pipes for your home or business. Our team can install PEX, copper and PVC pipes.
Leak Detection
A high water bill and low water pressure indicate a leak in your plumbing. Hidden leaks can also lead to a costly plumbing emergency when not addressed. If you suspect leaks in the main water lines, in-wall pipes, fixtures or appliances, call us ASAP. We offer professional leak detection and repair.
Our plumbing team is fully equipped with the tools and experience to permanently fix the problem. We'll offer cost-effective plumbing solutions to help you save money at the same time.
If you have trees near your home, tree roots may penetrate the pipes and cause major damage. Look out for pests or unpleasant smells at home as this could also be related to a sewer problem. Call us right away so that we can inspect your plumbing, diagnose the problem and provide a solution.
Backflow Services
The last thing a homeowner wants is contaminated water infiltrating their home. Backflow is a serious problem, and you need the right professional to resolve this. This is where Choate's comes in. Our plumbers are licensed and experienced. We also have the right tools and equipment to fix the issue promptly and permanently.
Get in touch with Choate's
today for an appointment.
Plumber Near Me
Choate's is an established plumbing company that serves homeowners and businesses in the Memphis area. Our goal is to deliver high-quality plumbing services to ensure your plumbing system stays efficient.
Plumber FAQs
Below are the most common questions homeowners have about their plumbing:
Why Do I Need To Hire a Licensed Plumber?
Licensed plumbers are fully equipped and trained to properly carry out the job. They will thoroughly inspect your plumbing and give you an accurate diagnosis along with a cost-effective plumbing solution. Most importantly, they adhere to codes to avoid problems down the road.
How Can I Save Money on My Plumbing?
Get routine plumbing inspections to identify and resolve issues early. Unresolved problems might lead to a plumbing emergency that can cost a fortune in repairs. Don't ignore minor problems so that they don't progress into catastrophic plumbing emergencies.
What Is a Plumbing Emergency?
Leaks and clogs are plumbing emergencies. You need to get in touch with a licensed plumber immediately to avoid further damage to your home. Better yet, install leak detection devices to get alerts when there are leaks in your plumbing.
Why Do I Need Professional Plumbing Installation?
Incorrect plumbing installation can damage your appliances and fixtures. You might end up with a costly repair or replacement. A licensed plumber has enough experience to correctly install an appliance or fixture, ensuring the unit works efficiently.
How Do I Prevent Water Damage?
If you have a conventional water heater, drain the tank at least once a year to get rid of the sediment buildup. When the sediment isn't removed, it will accumulate and damage the tank. Draining the water heater keeps your unit efficient and prevents leaks.
Check your plumbing appliances and fixtures for any signs of damage or leaks. Call a plumber immediately for professional leak detection if you suspect a problem.
High water pressure can strain and damage the pipes. If the water pressure is high, get a water pressure regulator to regulate your home's water pressure and prevent water damage.
What Should I Do About a Burst Pipe?
The first thing you need to do is turn off your water and call a plumber immediately to fix the leak. To prevent mold growth, clean the area while waiting for the plumber.
How Do I Unclog My Tub?
You can use a drain snake to unclog your tub. If it doesn't work, call a plumber ASAP. Avoid using chemical-based drain cleaners — they can harm the pipes. We don't advise you to purchase these cleaners, especially when there are pets and children in your home. If you decide to purchase a drain cleaner, follow the instructions on the label and make sure children can't access them.
How Can I Fix My Garbage Disposal?
When the garbage disposal stops working, something may be blocking the motor. Turn off the unit and check for any objects that are stuck inside. You can also try pressing the reset button to resolve the problem. Otherwise, call a plumber for an inspection or repair.
Why Is My Water Bill So High?
Higher bills usually indicate leaks in your plumbing, especially when water pressure is also low. Get a water pressure gauge to check your home's water pressure levels and call a plumber when the water pressure is too low. You may also get in touch with us for professional leak detection and plumbing repair. Our plumbers are equipped with the right tools to find the leak and fix it permanently.
You might want to also switch to low-flow fixtures or a dual flush toilet to reduce your water bill. Consider switching to the tankless water heater as well to save more money.
Can I Prevent My Pipes From Freezing?
Insulate the pipes when the temperature drops to prevent the water from freezing. When the water freezes, the pipes can expand and burst. Running water also prevents pipes from freezing so ensure you slightly open the faucet.
Do you need plumbing repairs, inspections or installations? No need to look for a "plumber near me" or "plumbing company near me" on Google. We're here to help. If you're looking for high-quality plumbing services,
call Choate's
today.
Call Choate's HVAC And Plumbing today at 901-250-2508 or
schedule an appointment online
for all of your heating, a/c, and plumbing needs.