Indoor Air Quality Monitor
---
Since 1958, we have been the best air conditioning, heating, and plumbing company in the Memphis area.
---

Contact Us for a Free Estimate or Request Service Today
Indoor Air Quality Monitor near Memphis TN
Air pollution has severe negative impacts on human health. So, it 's beneficial to be informed of air pollutants at any given moment. If you'd like your home to have better air quality, you should proactively invest in a quality home monitor for a safe and healthy living environment. It's hard to improve air quality if you can't measure it, so every household striving to maintain high indoor air quality should have an air quality monitor. At Choate's Air Conditioning, Heating, & Plumbing, we offer some of the best air quality monitors for homes in Memphis, Tennessee.
Breathe easy with a top home air monitor, and ensure healthy air for your family. Our system provides real-time monitoring, insightful data analysis and notifications. And your home's air quality is constantly monitored and maintained.
People with respiratory or weakened immune systems need clean air, which benefits everyone. Outdoor pollutants, household chemicals, mold, pet dander and daily activities, such as cooking and cleaning, can accumulate and cause poor indoor air quality. Indoor air pollution can be immensely hazardous, causing various symptoms varying from slight allergic reactions and respiratory discomfort to more serious respiratory ailments and potential fatalities. That's where a reliable air quality monitor comes in.
Get instant insights into your home's air quality levels. Identify issues, and take action promptly. Armed with information, you can optimize air quality by adjusting ventilation or using air purifiers to reduce pollutants.
Real-Time Monitoring
With our indoor air quality monitor, you can have peace of mind knowing that real-time monitoring observes the air quality in your home. You can trust our air monitor to ensure your family breathes clean and healthy air. Our air monitor features advanced sensors that continuously detect and measure pollutants such as dust, pollen, gas leaks or mold.
Filtration and Purification
Filtration and purification are features of our best air quality monitor. Our device helps remove bacteria and viruses, keeping your air safe and clean. The purification system uses UV-C light and ionization to neutralize harmful microorganisms in the air to protect your well-being.
The filtration system eliminates tiny particles, pollen, pet dander and mold spores. The filters are easily replaceable and long-lasting, maximizing efficiency and value.
Energy Efficiency
Efficiency is essential to home air quality systems. Our air quality monitor is designed with energy efficiency in mind. The monitor consumes minimal energy while providing quality air filtration and purification using advanced technology and smart features. You don't have to worry about your electricity bills skyrocketing or harming the environment with our energy-efficient monitor. Choose our air quality monitor and experience clean air without compromising on efficiency.
Alerts and Notifications
Our monitor will alert you to any sudden change in air quality. Stay informed and control your indoor air quality with our air quality monitor's alerts and notifications feature. Receive instant alerts when the air quality levels in your home are not optimal, allowing you to take immediate action to improve the situation.
Customizing your settings to get alerts at regular intervals will help you keep an eye on any shifts in air quality. Whether you're working, running errands or relaxing on vacation, you can have peace of mind knowing you'll know of any potential issues with your indoor air quality.
Data Analysis and Trends
Stay ahead with our air quality monitor's data analysis and trends feature. With the trend feature, you can identify times when air quality is poor and take action to improve your air quality.
Track and verify the success of your improvements with our data analysis tool. Observe positive changes to maintain a clean and healthy living space.
Occupant Health and Comfort
Our indoor air quality system monitors temperature and humidity levels, detects mold and identifies airborne chemicals and VOCs. Mold causes illnesses and can damage your home. But alerts can help detect mold before it becomes an issue.
Our home air quality monitor ensures you live in an allergen- and pollutant-free home. Experience improved respiratory health, reduced allergies and a more comfortable living environment with our air quality monitor.
With real-time data, you can monitor and adjust the settings of your purification system based on the current air conditions. With clean and fresh bedroom air, you can enjoy a restful night's sleep and wake up energized.
Our monitor's modern design seamlessly blends into your home environment. It operates quietly and efficiently and won't disrupt your daily activities.
Get in Touch With Us
We'd like to help you improve your indoor air quality so you can go about your life in a healthier, more comfortable environment. Simply give us a call to discuss your air quality needs. We have offices in Collierville and Memphis to serve the wider Tennessee area.
For more than 65 years, Choate's focus on quality work and attention to detail has established its reputation as a leader in the community. Call us today at 901-250-2508 or schedule an appointment online today!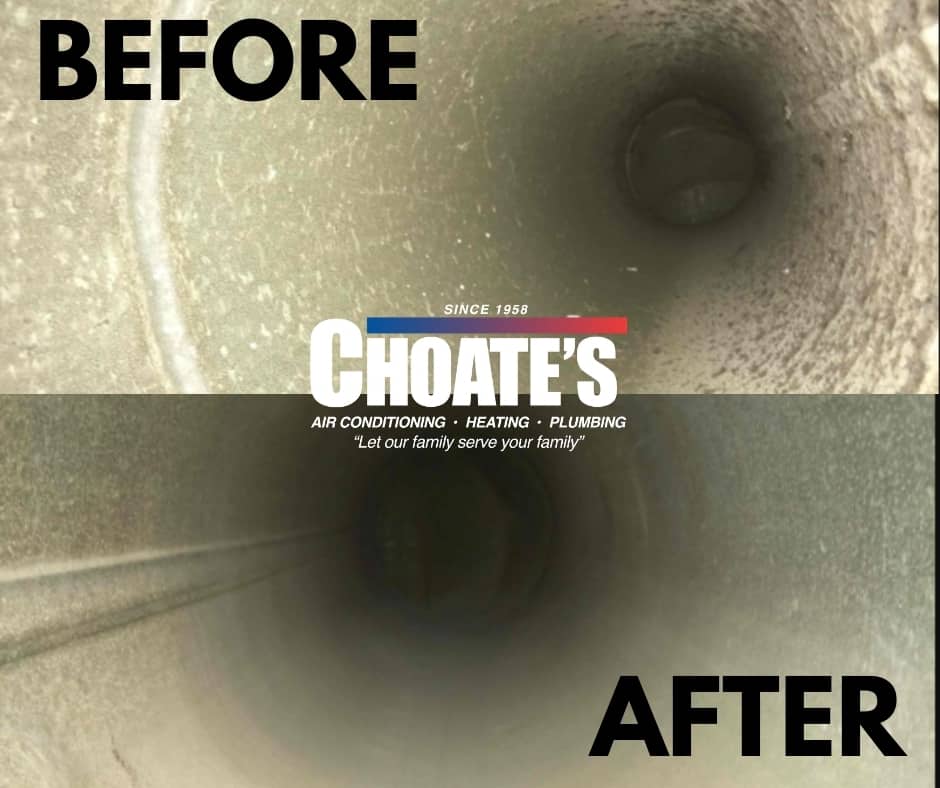 Indoor Air Quality Solutions
Dirt, dust, mold, and various other irritants can build up within various components of your HVAC system, reducing the efficiency of your system as well as the quality of the air in your home. Because your heater and air conditioner are constantly recirculating air, you will want to ensure that this air is pure and clean with the solutions below.
Physical Filters
There are different filters you can incorporate into your system, which will physical trap particles like dust and mold spores. These should be replaced often as part of your seasonal HVAC maintenance.
UV Lights
UV light use ultraviolet light to zap contaminants that a standard filter might miss. These air purification systems can be installed within your ductwork, so they remain out of the way, ensuring that air is cleaned at the source.
Humidifiers
Humidity control can be helpful when it comes to reducing allergy and asthma symptoms at home, so you might invest in a humidifier to reintroduce moisture to the air when you run the furnace during the winter. This can keep you more comfortable and allow you to breathe easier.
Air Duct Cleaning
With no added equipment, air duct cleaning helps you boost the performance of your HVAC system and clean the air in your home. Professional duct cleaning will reduce the risk of mold and mildew growth by clearing out pockets of dust, where mold can grow. Additionally, this will clear your system of blockages so that air flows freely, reducing stress on your system.
Indoor Air Quality Products
Choate's Air Conditioning and Heating can help you with any of your Indoor Air Quality problems. Choate's has a vast knowledge of the newest products that are available today and the experience to install them properly. Here are some of the products available.
Media Filters
At Choate's, we know the Mid-south area can be tough on allergy sufferers. That's why we install our standard filter sizes of 20″x25″4″ or 16″x25″x4″. We sell our filters for half the price you will pay anywhere else, and the best part is that you do not have to change them for up to 3-6 months, depending on house hold conditions. Now available: (2) Free filters for each system with a purchase of our PCA.
High Efficiency Filtration Systems
Choate's Air Conditioning & Heating, Inc. is pleased to provide you with the best air quality possible. We can upgrade your air filtration system to our standard 4″ Media filter, to washable air filters, or to our best Infinity Air Purifier that can kill bacteria, viruses, and fungi. If allergies are a bother and you are interested in air filtration system that will help, give us a call today.
Media Filter Chambers
If you still have a 1 inch air filter track and are suffering from allergies, dust, and poor ventilation, chances are you need to upgrade to a better air filter track. Choate's Air Conditioning and Heating, Inc. can upgrade your old air return box with a new better air filter chamber that allows you to have a better air filter system. A new upgraded air filter system will help you cut down on all these things and extend your furnace life. Collecting more dust in your air filter means your air blower wheel and evaporator coil won't get dirty, thus prolonging the life of your air conditioning and heating system. Having better air is having a better life.
Fresh Aire UV Purifier
Indoor Air Quality is a growing concern. One of the best ways to prevent poor air quality is with an UV/Air Purifier. Fresh Aire UV Purifier is installed in your supply air duct and cleans the air the goes through the purifying system. For more information click here.
Humidifiers
During the winter time your furnace heat has been known to dry up the moisture in the air. To solve this problem moisture must be reintroduced back into the air. The best way to do this is with a HVAC Steam Humidifier. This will go into your supply duct and maintain the proper humidity throughout your home. For more information click here.
Customer Reviews
What Our Customers Say
They give you an accurate estimate of the cost before they start the work so you know exactly what you are dealing with. They are a first-class company!

Karin M.

Choate's is one of the best HVAC companies I've had the pleasure of dealing with in Midtown. They're honest, affordable and very responsive.

Anna Brown

The technician and the answering service both were very professional and there was no pushy pitch! I would recommend Tony, class act and person.

Daimon Russell