Air Duct Cleaning
Need air duct cleaning Services?
Need a Memphis air duct cleaning company to keep your home and business comfortable? Searching for the best air duct cleaning experts in Memphis? Call Choate's HVAC And Plumbing today at 901-755-4797 for all of your air duct cleaning needs.

Contact Us for a Free Estimate or Request Service Today
Serving Memphis and the surrounding areas.
90% of homes have shown indoor air quality issues, and the EPA ranks indoor air pollution as one of the top 5 health risks. In addition, there are 55 million allergy and asthma sufferers in the U.S. With growing concerns about the air we breathe indoors, more and more homeowners and building managers are looking to make improvements by having air duct cleaning done.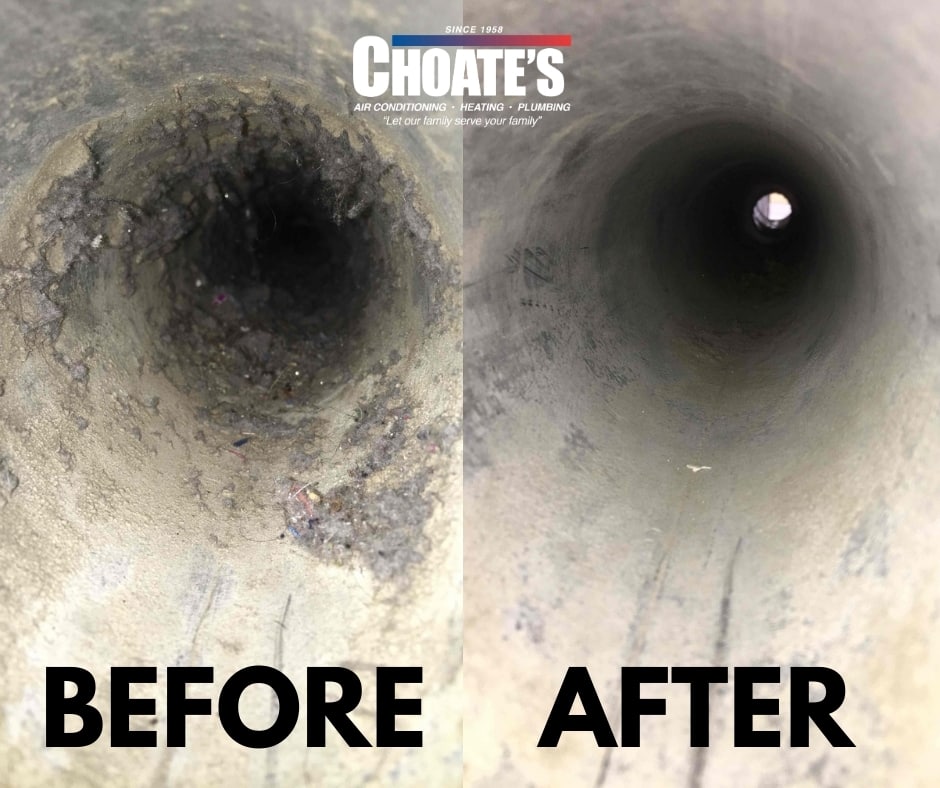 Top 10 Reasons to Have Air Ducts Cleaned
People get their air ducts cleaned for a variety of reasons, including the following:
Installation of new high efficiency heating & cooling system – don't blow dirt and debris through the new coils
Allergy and/or asthma symptoms are aggravated
Pet dander accumulation
Reduction of interior dust
Ducts and furnace have been inactive for two or more years
Rodent and other pest infiltration
Microbial growth inside: mold, fungus, algae, bacteria, etc.
Odors from ducts and/or furnace
A video inspection shows dirt & debris in ducts
Routine maintenance to improve indoor air quality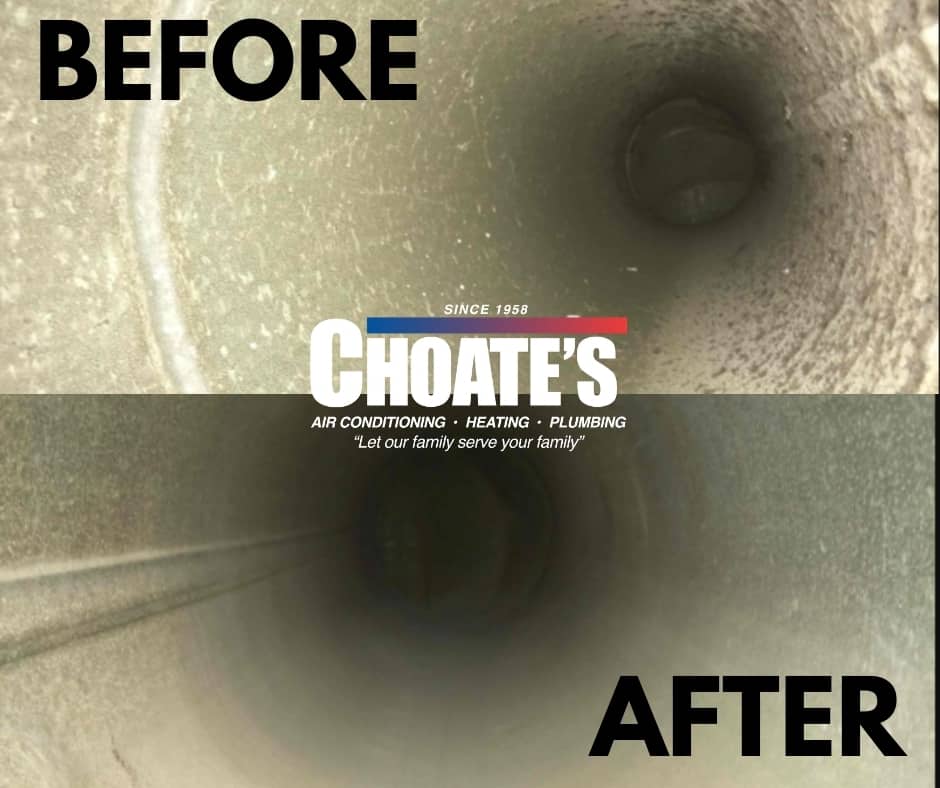 Air Duct Cleaning FAQs
Having been in business for over 6 decades, we've come across curious — and savvy — consumers who have questions about air duct cleaning and its role in indoor air quality. Therefore, our indoor air quality experts have crafted this FAQ guide to provide answers to the commonly asked air duct cleaning questions.
What Is Air Duct Cleaning?
As its name indicates, air duct cleaning refers to cleaning the air ducts circulating the air warmed or cooled by your HVAC system. However, the process may also cover other components, such as vents, coils, fans, heat exchangers and drain pans. Air duct cleaning services are particularly vital if you haven't kept up with regular HVAC maintenance appointments or if system components weren't installed correctly.
Without proper air duct installation and maintenance of HVAC components, ductwork may accumulate airborne contaminants, such as dust, pollen, bacteria and fungi. If moisture settles in the system, a mold infestation can bring about allergic reactions. Our duct cleaning services help eliminate air pollutants and enhance indoor air quality efforts.
How Often Should I Have My Ductwork Cleaned?
Choates HVAC
recommends cleaning your ducts at least every 3-5 years. This routine cleanup is intended to keep dust, dirt and debris at bay, improving indoor air quality as a result. Moreover, everyone in your home or business can breathe more easily if the air is clean.
But sometimes, routine duct cleaning might not be enough, and you may need to schedule duct cleaning services sooner than 3 years after your last appointment. Here are some signs your ducts need immediate cleanup:
Visible mold

: Seek prompt air duct cleaning service if you detect mold or mildew inside your HVAC equipment. These contaminants can affect your health if they find a way into your indoor air. Our IAQ experts can help remove the visible growth, eliminate the source and offer preventative solutions.

Pest infestation

: Moisture accumulation inside your HVAC system can also attract insects and rodents. Rats and mice, for instance, can thrive in interconnected ducts and destroy your home's infrastructure, while cockroaches, fleas and bedbugs may carry and spread diseases. The presence of vermin in ductwork is a top sign you need air duct cleaning service.

Illness

: People with respiratory conditions, such as bronchitis and asthma, can benefit from frequent air duct cleaning. Those suffering from allergies should also consider more frequent duct cleaning to remove debris from the air before it triggers an attack. If you have a persistent cold or sinus infection but are otherwise healthy, it's time to call in the duct cleaners.

Home remodels

: Renovating your home is likely to result in a lot of dust and debris, which can settle in the ductwork if unsealed. This dirt can clog filters and even get into your indoor air via the vents. Contact our duct cleaning company if you've remodeled your home — our experienced service techs can inspect your ductwork, check for dirt buildup and clean your ductwork to provide peak performance.
What Are Some Benefits of Having My Ductwork Professionally Cleaned?
Although professional air duct cleaning won't completely absolve you from your dusting chores, it offers various benefits that you're likely to note. These include:
A cleaner indoor environment

: Air duct cleaning primarily helps rid your HVAC system of dust particles. Less dust circulating in the air means you'll spend less time dusting your floors and furniture.

Fewer allergens

: Air ducts are also notorious for harboring mold spores, mildew, bacteria and airborne toxins that affect allergy/asthma sufferers and those with respiratory problems. Duct cleaning helps prevent these harmful contaminants from circulating in your indoor air and promotes healthy living.

Increased HVAC efficiency

: Cleaning your ductwork means less debris clogging your HVAC system, and the air flows smoothly with less resistance. Fans and motors will also be under less stress, helping the entire HVAC system to work smoothly for a long time.

No more foul odor

: Thorough air duct cleaning helps remove bad smells circulating in the air ducts. Such odors typically originate from pets, tobacco, smoke, paint fumes or mold, and a musty smell from ductwork means dust has come in contact with water.
Are There Any Health Benefits That Come From Cleaning My Ductwork?
Air duct cleaning can help stop the spread of harmful mold spores and bacteria that could cause asthma and infections in people with compromised immunity. It can also eliminate lingering coughs or sneezes triggered by airborne pollutants. Generally, cleaning ductwork removes dust particles and allergens from the air to create a more comfortable environment for breathing, ultimately promoting health and well-being.
Air duct cleaning alone won't necessarily prevent the spread of illnesses. However, changing air filters frequently goes a long way in reducing the spread of airborne diseases.
Will You Get a Lot of Dust in My House During the Air Duct Cleaning Process?
Not at all. The expert technicians who conduct professional air duct repairs and cleaning have the training and knowledge to do the job without creating a big mess. They have specialized equipment that blows and sucks debris from the ductwork.
Duct cleaning pros usually use the negative pressure method to prevent blowback during the cleaning and minimize the spread of dirt inside the home. That's why we recommend leaving such work to seasoned air duct cleaners, such as those at Choate's. Our team knows how to clean your ductwork and vents for the best possible results.
How Long Will It Take to Clean the Ductwork in My Home?
On average, it may take about 2-4 hours to clean the air ducts in a home. However, the time may vary depending on the size of the house and the intensity of the dirt in the ductwork. A bigger home with more ductwork and lots of dust takes longer to clean than a smaller residence with less dirt in the ductwork.
Call Choate's HVAC And Plumbing today at 901-250-2508 or
schedule an appointment online
for all of your heating, a/c, and plumbing needs.