Choate's Air Conditioning, Heating and Plumbing Wins Memphis Business Journal's Small Business Award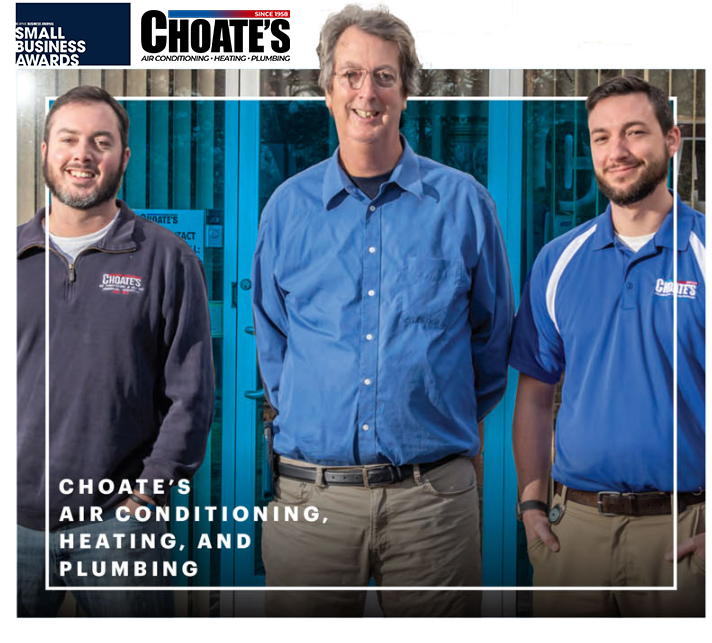 Choate's Wins Memphis Small Business Journal Awards
On May 16th, 2023, the highly anticipated 43rd Small Business Awards took place, hosted by the esteemed Memphis Business Journal.
The award spotlighted small businesses and their remarkable achievements. The Small Business Awards recognized outstanding accomplishments across various categories, including Emerging Entrepreneurs, Small Company, Large Company, and Executive of the Year. One of the standout winners at this prestigious ceremony was Choate's Air Conditioning, Heating, and Plumbing, which triumphed in the "Large" category, featuring five prominent local businesses from the vibrant Midsouth region.
Established in 1958, Choate's Air Conditioning, Heating, and Plumbing looks "the best of the best" and provides an "exceptional customer experience." The company's leadership attributes this vision to Choate's enduring success.
Located in Collierville, Choate's specializes in residential and commercial HVAC, indoor air quality solutions, and plumbing services. It was founded by Joe Choate, a dedicated individual who aimed to serve others with honesty and diligence. Joe passed the business down to his son, Chris, who expanded its services to include HVAC installations in new constructions. Following in his father's footsteps, Chris involves his own sons, Brian and Sol, in various aspects of the business, fostering a tradition of building upon past achievements.
Choate's has consistently pursued growth and diversification. In 1989, the company expanded its offerings to include industrial services installation and commercial work. Subsequently, in 2001, Choate's introduced plumbing services. Looking to the future, the company has plans to establish an electrical division in the near future. Despite the challenges posed by the pandemic, Choate's has continued to thrive, experiencing substantial growth in recent years and anticipating even greater expansion in the years to come.
As a result of this expansion, Choate's has generated employment opportunities, currently employing 130 individuals, and is actively seeking to recruit additional skilled tradespeople. In 2022, Choate's relocated to a modern facility equipped with cutting-edge training facilities.
"In the next few years, we plan on being able to take anyone who wants to start a career in HVAC and plumbing and provide a platform to make that happen," assistant general manager Brian Choate said.
The recognition garnered at the Small Business Awards is a testament to Choate's enduring legacy and ongoing commitment to providing exceptional service. It serves as a reminder of the company's long-standing reputation as a trusted name in the industry. As Choate's continues to make strides in innovation, service, and community engagement, their impact is sure to be felt for generations to come.